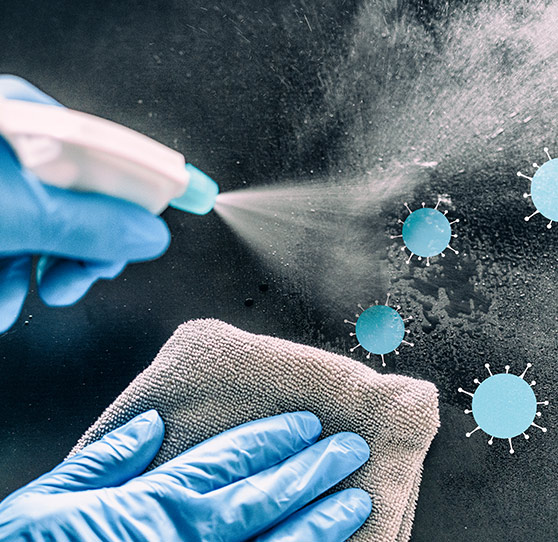 RECOMMENDATIONS AND INFORMATION
COVID-19 is an infectious disease caused by the coronavirus SARSCoV-2.
In order to deal with this virus, A&B provides the various professional sectors and society with a wide range of disinfectant solutions with all the guarantees of effectiveness and safety, as they are approved products with bactericidal, fungicidal and virucidal capacity (standard EN 14476).
What you should know
In order to ensure that products to eliminate coronavirus are truly effective, it is important to know a few things.
The use of COVID-19 biocides is regulated by Regulation (EU) no. 528/2012 and national regulations. In this sense, biocides that have not been expressly authorized and duly registered should not be used.
The Ministry of Health publishes on its website the list of products currently evaluated and registered for which their virucide effectiveness has been demonstrated.
Prevention
Hand hygiene is the simplest and most effective measure to prevent the transmission of Coronavirus, which is easily deactivated thanks to the detergent power of the soap.
We must wash our hands regularly with special attention to the duration of friction.
When this is not possible the health authorities recommend the use of hydroalcoholic solution with high alcohol content and accredited virucidal activity.
A&B has different soaps and also Antiseptic for healthy skin – DD4103, a triple action hydroalcoholic solution, authorized by the AEMPS.
Cleaning and disinfection of surfaces
Regarding to the daily cleaning routines, the facilities should be cleaned and disinfected at least once a day, reinforcing it in those places that require it, according to the intensity of use and with special attention to the critical points of contagion.
In the current situation, health authorities consider that it is necessary to extreme disinfection in streets and public places such as transport and municipal facilities, as well as in workplaces and recommend the application of a protocol for cleaning and disinfecting them.
Cleaning will be carried out with the usual detergents and reinforced with accredited virucidal disinfectants that have been authorized and registered by the Ministry of Health. The use of these products will always respect the indications on the label.
How to use disinfectants in general
Apply the product to the surface to be cleaned (on heavily soiled surfaces it may be necessary to pre-clean with a degreaser).
Rub the surface with a cloth or scourer.
Leave a prudent time for the disinfectant to act.
Remove with a clean, damp cloth.
A&B has a wide range of disinfectants for different needs and our technicians will help you with everything you need to carry out the protocols indicated by the health authorities, from advice to starting up the products.
Complementary solutions
These are the solutions
Contact us
Send us your queries, suggestions and/or questions by means of the form below and we will reply to you as soon as possible. Or if you prefer, you can call us at +34 945 291 616.