Antiseptic for healthy skin – DD4103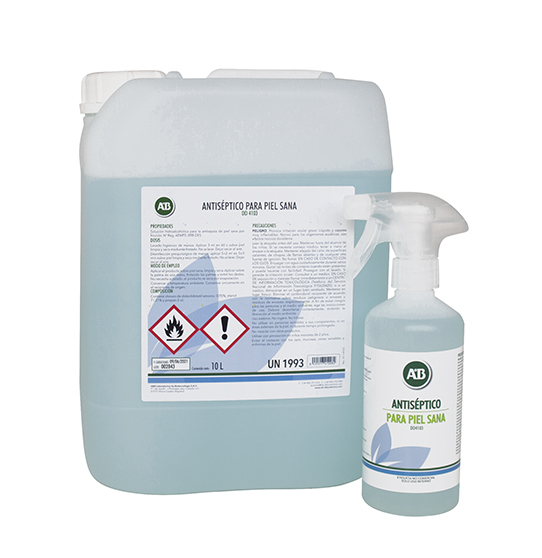 Antiseptic for healthy skin - DD4103
Hydroalcoholic product for hand hygiene. Preventive agent with virucidal activity to eliminate cross contamination during manual tasks. Formula selected for its environmentally friendly and high activity components. ANTISEPTIC FOR HEALTHY SKIN with Registry No. 898-DES.
Benefits:
Concentrated product: very little product is needed to clean thoroughly
Skin protection: contains ingredients for regenerating and moisturising skin
Effectiveness: complies with the UNE EN 1500 regulation – hygienic treatment of hands by friction, UNE EN 12791 regulation – surgical disinfectant activity of hands, UNE EN 13624 – levuricidal activity, UNE EN 13727 – bactericidal activity in clean conditions in medical area and NF-EN 14476:2013+A1:2019: virucidal activity. Recommended for the prevention and control of infection by enveloped viruses (Influenza A, Coronavirus, HIV, Herpes) thanks to its alcohol content (greater than 75% v/v).
HACCP programmes: due to its sanitizing action, its regular use prevents cross-contamination and minimizes the risk of infection
Environmental improvement: formula selected for minimizing the environmental impact
Other benefits: refreshing action and quick drying
*Sectors: food industry. hospitals. health centres. nurseries. nursing homes.
**Use biocides safely. Always read the label and product information before use.

Complementary solutions
These are the solutions which have the best complementary use with our product.
Contact us
Send us your queries, suggestions and/or questions by means of the form below and we will reply to you as soon as possible.