Disinfectant Cleaner – DD465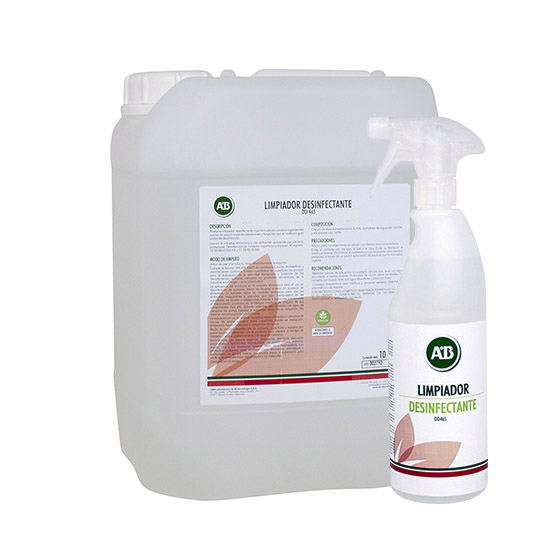 Disinfectant Cleaner - DD465
Disinfectant cleaner whose formula combines broad-spectrum bactericidal, fungicidal and virucidal* active ingredients, providing it with excellent disinfecting power. AUTHORISED FOR USE BY THE GENERAL PUBLIC. HA approved for the food industry, registry No. 17-20/40-05306 andᅠ17-20/40-05306 HA.
Benefits:
Does not require application licence: professional use
Cleaner and disinfectant** in just one product
Bactericidal and fungicidal activity in dirty conditions (UNE 13697) against Escherichia coli, Pseudomonas aeruginosa, Staphylococcus aureus, Enterococcus hiriae, Aspergillus brasiliensis and Candida albicans
*Tested against the A H1N1 flu enveloped virus (EN 14476) in dirty conditions
Active against Listeria monocytogenes, Salmonella typhimurium and Campilobacter jejuni
HACCP programmes: cleanses and disinfects surfaces, equipment and utensils
Safe to use: not classified as hazardous
Environmental improvement: ecodesigned product, minimizes its environmental impact
*Sectors: food industry, hotels, nursing homes, sports centres.
**Use biocides safely. Always read the label and product information before use.



Complementary solutions
These are the solutions which have the best complementary use with our product.
Contact us
Send us your queries, suggestions and/or questions by means of the form below and we will reply to you as soon as possible.